OLENERGIES BATTERY EQUIPS INNOVATIVE MARITIME DRONE DEVELOPED BY iXblue
Date: Q1 2021
Client: IxBlue
Project type: 

Unmanned surface vehicle
Olenergies: a leader in marine batteries
SEAstart is the startup acceleration program of the French Marine Industry Group (GICAN), aiming to develop concrete collaborations between startups and industrialists in the naval sector.
Olenergies was selected among 12 startups and has benefited since 2019 from advices, visibility on exhibitions and networking with innovative industrial projects.
It is in this context that iXblue, a company recognized worldwide for the design and manufacture of high-tech equipment in the fields of the sea and autonomy, had the opportunity to discover Olenergies' offer. iXblue has indeed been designing and manufacturing since 2017 an autonomous maritime surface drone, DriX, which allows for hydrographic surveys to map the oceans. DriX thus requires efficient, reliable and robust equipment.
It is in the scope of a change of battery type aiming at reducing the overall weight of our drone that we decided to ask Olenergies for help. Until then, we were using lead acid batteries for the engine start of our drone and had made the choice to replace them by lithium batteries. Having identified Olenergies as the French expert in lithium batteries thanks to the GICAN's SEAStart program, it is quite natural that we got in touch with their team. Real specialists in their field, the Olenergies team was very involved in our project and offered us a quality support. Olenergies' engineers listened to all of our issues and were able to adapt their technology and develop a brand new type of battery to meet our specific challenges. We have really found, in Olenergies, a trustworthy partner we can rely on for our projects.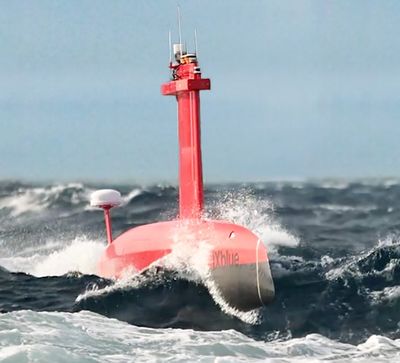 We are happy and proud of the industrial collaboration between Olenergies, a member of SEAstart since 2019, and iXblue, a company involved in the GICAN action. These joint successes are the essence of SEAstart and GICAN, and contribute to making the naval industry a true French industrial flagship.
Our other projects & news
Access to energy: OLENERGIES electrifies African villages
Olenergies and its partner Jokosun are tackling the challenge of universal access to sustainable energy in West Africa.
OLENERGIES boosts the Oasis coffee and makes it 2x powerfull
Our engineers have been working on a second version of the Oasis Coffee to become twice as powerfull and ready for jackhammers